Robin Sharp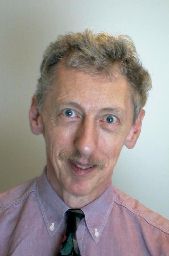 Contact info.:
| | |
| --- | --- |
| Post: | Informatics and Mathematical Modelling, |
| | Building 321, |
| | Richard Petersens Plads, |
| | The Technical University of Denmark, |
| | DK-2800 Kongens Lyngby, Denmark. |
| Tel: | +45 4525 3749 |
| Fax: | +45 4593 0074 |
My office is in fact in building 322, in room 210 on the top floor.
The easiest way to contact me is usually via e-mail at: robin (a) imm.dtu.dk
Research Interests
I am a member, and currently the head, of the Embedded Systems Engineering Section of the Computer Science & Engineering sub-department at the Informatics and Mathematical Modelling department. My current interests are:
Distributed and real-time systems, especially protocol specification and computer security in very large distributed systems, such as GRID systems. You might like to look at:

A short presentation of my book "Principles of Protocol Design".
A description of the RTMM project, in which we have been investigating Interactive Distributed Multimedia.
A description of The Danish Center for Grid Computing, a collaborative project whose aim is to increase awareness on the use of very large distributed computer systems based on the GRID paradigm, and to develop new technical solutions for supporting such systems.
A description of IDSnet, a network intrusion detection system based on neural network technology.
A description of the CCDM project, in which we investigate the use of the Common Criteria as the basis for a design methodology for secure IT products.
A preliminary description of the CIT-AWARE project, in which we are investigating citizens' awareness of IT security issues, especially in connection with use of the Internet.

VLSI specification, especially using the relational language Ruby.
Teaching
I teach regular courses in:
IT Security (Together with Bo Holst Christensen. DTU course 02222)
Network Security. (DTU course 02233)
I am almost always (well, the week only has 168 hours...) willing to supervise M.Sc. thesis projects in areas connected with my research interests. For some ideas of what I currently have on offer, click here.
Other Interests
Classical music, both to listen to and to perform.
I sing in Roskilde Koret, a classical choir in Roskilde, the well-known cathedral town, which I live near to.
Mountain walking.
Food.
Curriculum Vitæ
If you want to find out what I've been up to during my chequered past, just click here.
---
Robin Sharp
Last updated 100104.