Prof. Paul Pop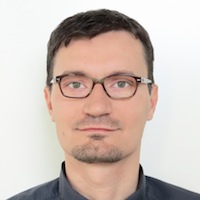 About
Since 2016, I am a professor at DTU Compute (Department of Applied Mathematics and Computer Science at the Technical University of Denmark, DTU). I have joined DTU in 2006 as an associate professor. I received my Ph.D. in Computer Systems from Linköping University in 2003 and my Master's in Computer Science in 1997 from the Technical University of Timisoara, Romania.
Research interests
I do research on methods and tools for systems engineering. I work in the general area of cyber-physical systems, with a focus on Industrial Internet of Things, safety-critical real-time systems and edge computing. You can see my current and past projects here and on the IoT Center website.
Awards and professional service
Coordinator of the European Training Network on Fog Computing for Robotics and Industrial Automation
Coordinator of the Nordic University Hub on Industrial IoT
Director of DTU's Research Center for the Internet of Things
Chairman of the IEEE Danish Chapter on Embedded Systems
Coordinator of the Danish national Systems Engineering Interest Group
Coordinator of the Danish national Safety-Critical Systems Interest Group
Coordinator at DTU for the Nordic Master School in innovative ICT
Best Paper Award, IEEE International Conference on Emerging Technologies and Factory Automation (ETFA), 2020
Best Paper Award, Euromicro Conference on Digital System Design (DSD), 2016
Embedded Skills Award, DI ITEK, 2014 (advisor for Kasper Understrup)
Best Poster Award, Design Automation and Test in Europe Conference PhD Forum, 2014 (advisor for Mirela Alistar)
DTU's prize for "Forskningsbaseret myndighedsrådgivning", 2013 (for the DSB IC4 investigation), 2013
Best Student Paper Award at the Mediterranean Conference on Embedded Computing (co-author), 2013
EDAA Outstanding Dissertations Award (co-advisor for PhD student Viacheslav Izosimov), 2011
Best Paper Award, International Conference on Compilers, Architecture, and Synthesis for Embedded Systems (CASES), 2009
Best Paper Award, Design Automation and Test in Europe Conference (DATE), 2005
Selected as "The Most Influential Papers of 10 Years DATE Conference"
Best paper award, Real-Time in Sweden Conference
Publications
Click here for my publication list. The PDFs and slides of my papers, as well as the theses I have supervised, can be found here.
Teaching
02229 Systems Optimization, master-level, 7.5 ECTS points, autumn semester
02132 Computer Systems, bachelor-level, 10 ECTS points, autumn semester
02223 02223 Model-Based Systems Engineering, master-level, 7.5 ECTS points, autumn semester
Past courses
02131 Embedded Systems, bachelor-level, 10 ECTS points
02228 Fault-Tolerant Systems, master-level, 7.5 ECTS points